Ideal for Any Distance Learning Situation

Sometimes it's just not possible for students to be in class
on a regular basis...if at all
Or students want to take an independent study course, requiring them to be their own self-directed learners.
Career Choices and Changes, in either the workbook/online combination or the online only version was designed just for this opportunity.
It is actually a carefully planned, self-paced career development and life-planning program that learners will find not only logical and easy to follow but also inspiring, intuitive, and at the same time realistic. Used throughout the country in college courses, it helps students create a vision and a plan for a productive future of their own choosing—which in turn keeps them on track to graduation and/or successful entry into the workforce.
Originally designed for an independent study course, students have everything they require to work autonomously without regular interaction with an instructor.

How does it work?
Watch this short video
⇨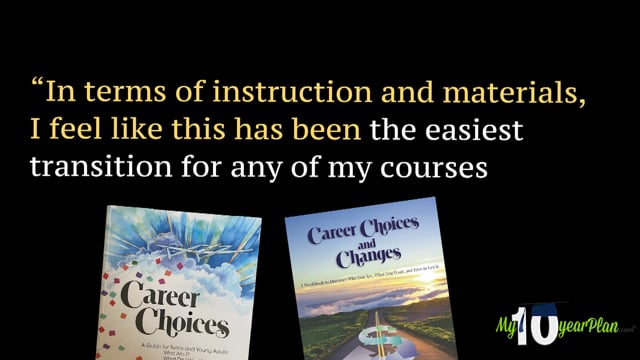 ⇦
Instructors, mentors or coaches, given access by the student, can easily stay connected to support as needed.
Students have a choice!
They can choose between the workbook/online version if they prefer reading hardcopy text
or the online-only version if they would rather have everything presented digitally.
No matter where they are in the world,
students can purchase their materials online if they are not near a bookstore. And keep in mind the delivery of Career Choices and Changes ONLINE is immediate. This purchase button can be found on the home page of My10yearPlan.com.
So there are no barriers for anyone who is motivated
to determine their next steps in life.